Georgia Floor Care Enterprises, Inc. started in 1984, as a small two-man operation formally named West Georgia Floor Services. West Georgia Floor Services was founded by Gene Register. Gene was a pioneer in the floor cleaning industry. Clint Register, after years of working with his father Gene, took over the family-owned business in 1991 and changed the name to Georgia Floor Care, Inc., Clint Register is now sole owner and CEO of the company.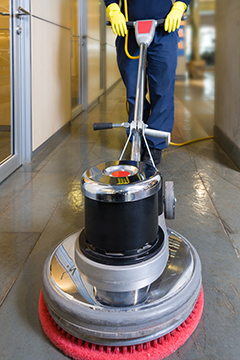 Clint has maintained a philosophy that in order to keep a customer happy, you have to be a partner in their business. Clint feels that even though some may see it as just cleaning a floor, we at Georgia Floor Care see it as we have to make this floor look as good as possible so that the public will want to patronize this establishment and add profitability and success to the facility owner. With this mindset of service, we build a partner-like relationship with our customers, and we treat every client as if they are our only customer, no matter how large or small the account, all clients are our first priority. Georgia Floor Care, Inc. remains a leader and innovator in floor care and maintenance.
Throughout the years we have evolved from being only a VCT tile specialist into other areas, such as grout tile (ceramic, quarry, porcelain, etc) carpet cleaning and deodorizing, commercial concrete cleaning and polishing, and wood and laminate floor maintenance.
To date, Georgia Floor Service and Clint Register have been maintaining floors and satisfying customers for more than 32 years. Our experience speaks for itself. If you need a floor cleaned, stripped and waxed, buffed or burnished in Douglasville, Winston, Lithia Springs, Campbelton, or Villa Rica, GA, or in need of carpet cleaning or wood floor maintenance, you can feel confident that you have found the right company to partner with to satisfy your floor care needs. Contact us now.